A book written by one of the parents 攜手同心──兩代亞氏保加兒的越障路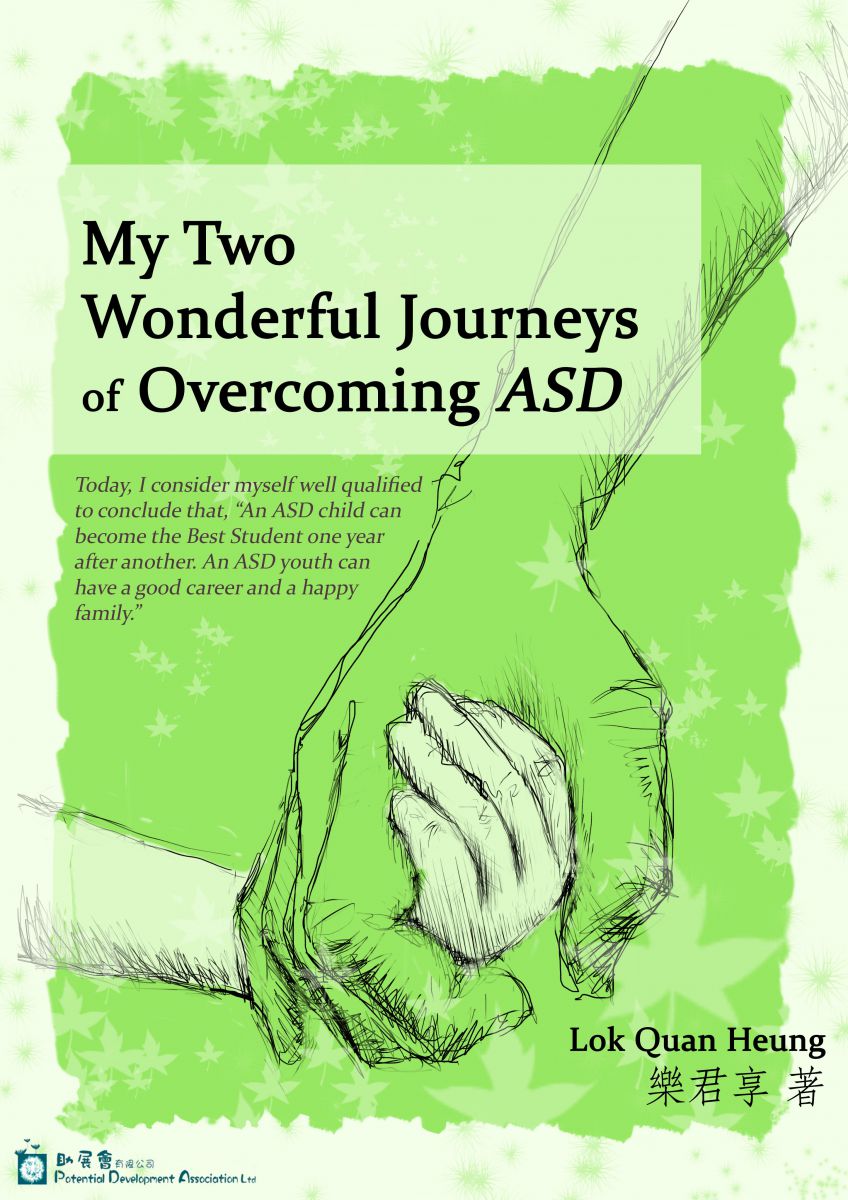 My Two Wonderful Journeys of Overcoming ASD – a story with love manifested in every corner
As a preschooler, the youngest of Lok's two sons was diagnosed with Asperger's Syndrome (now known as Autism Spectrum Disorder, or ASD), in which he faced challenges in social interactions, communication, and nonverbal communication. Upon diagnosis, Lok decided to take six months off from work and dedicate his every waking minute into figuring out a solution and finding support for his son. Now, not only can the youngest son smoothly navigate mainstream primary school on his own, but has also even been recognized for excellence in both character and conduct as a student the past few years.
From diagnosis, seeking professional assistance, to the hardships and roller coaster of emotions during therapy, the book follows along their entire journey of overcoming ASD.
To his own surprise, in the process of taking care of his son, Lok came to the revelation that he himself was also once a victim of Asperger's as a teenager and young adult, but unknowingly overcame its challenges in his own personal way. This generational success story against ASD is a testimony of the unconditional and unwavering love a parent can offer to its child, and with that, a witness to how one can bloom in the face of adversity.
Table of Content
Introduction
Preface
Chapter 1 Family Education is Paramount
Chapter 2 A Long Journey of Diagnosis
Chapter 3 Playgrounds, Overcoming Sensory Integration Dysfunction
Chapter 4 Bakugan Balls, From Icy Silence to Happy Communication
Chapter 5 Play Therapy, a Joyful Experience
Chapter 6 Never Give Up, Motivating Myself
Chapter 7 Skating, Rock Climbing, Confidence Building
Chapter 8 Social Etiquette Training, Timing is Important
Chapter 9 PDA, A Special Experience of "Non Traditional" Training
Chapter 10 Overcoming Asperger's Syndrome, A Wonderful Journey
Chapter 11 Let Go, the Child Will Run Fast
Chapter 12 My Own Journey, Push It Through In A Hard Way
Epilogue 1, 2, 3
Acknowledgements
My Second Wonderful Journey
Appendix - List of Assessments, Activities and Training Courses
My Two Wonderful Journeys of Overcoming ASD